Alan's Childhood Memories
In truth I remember very little of my early childhood - its mostly blank with a few blurrs - however there are just few things I do remember - which makes them stand out all the more...
I remember....
...At 7 years old going by bus to Woolston Shore with my mother to watch the grand ocean liner "Queen Mary" leave her home port of Southampton, England (my home town) for the very last time. People were lining the shoreline waving goodbye and small boats and fire boats were escorting her out to the Solent... It was surprisingly emotional for my mother and many others there. The Queen Mary & Queen Elizabeth were based in Southampton as previously were the Titanic (briefly) and many other major ocean liners. But the Queen Mary was the most loved - she had been based in Southampton since 1936. During the war she was refitted as troop ship (1940) - the biggest and fastest troop ship ever - endearing her to many who would never have been able to sail on her otherwise. After the war ended she took victorious British and American troops home until 1946 when she was refitted again for service. She was the fastest big ship in the world for most of her life and could be seen in Port in Southampton every few weeks on her back & forth service to New York. Taking the double-decker bus into town my Mother would always look to the docks - "Look the Queen Mary is in port" she would say and we could see the tops of the three giant funnels above the massive dockland warehouse buildings...
As a girl my mother lived along the Netley Shore and would often see the big liners cruising in and out of the port of Southampton just upriver.
Many years later I saw and actually boarded the Queen Mary in Long Beach, California - where she is now permanently moored.
I also remember a somewhat more anticlimactic (at the time) trip to the Southampton Central Train Station where my Mother purchased "platform tickets" so we could stand on the platform as the last ever mainline steam train passed through Southampton... The train didn't stop... it just made an enormous noise and smelled pretty bad too... so much for the romance of steam...
I'm still very glad my mother took me and I certainly remember it - really the end of an era... It did explain why the station was so grimy back then... I've not figured out what their excuse is now....
I remember going to Petersfield and rowing on the large Petersfield Lake with my father for what seemed like ages, we did this on at least 2 occasions... which was unusual since we didn't go out in the car much. My father was not a very confident driver and had to be persuaded to go anywhere...
I also remember several family holidays in the west country of England - they have all merged into one really... But I do remember Lyme Regis and the sheltered beach by the Cobb, walking through the little lanes and looking at the fishing equipment - which I was very interested in at the time.
We have since been back to Lyme Regis - and it's still much as I remember it. Even some fishing shops in the same places!
I also recall the wide open beaches of the north coast of Devon/Cornwall in Weston-Super-Mare and Bude particularly and the little village of Clovelly and the split towns of West Looe & East Looe in the south.
I have subsequently been back to most of these places and safe to say I didn't remember all that much really... mostly more the sense of being there more than the actual places and layout, in most of these places that sense isn't so much different 40 years or so later...
I also slightly remember a trip to the north of England to visit my Uncle & Aunt and my many cousins who were all at least a little older than me. They ran a Pub in Rochdale - and I recall the pungent/sweet smell of beer soaked carpet in the public areas - a smell that still reminds me of that trip to this day.

The only other thing I recall about the trip was that we went to see a game of Rugby League (a game I'd never really watched much before) to see the local team the "Rochdale Hornets" play somebody or other... I have no idea of the score or who won - I assume I was probably bored out of my brain... I just seem to recall it was bitterly cold.
I also remember a trip of those same older cousins to our house and I remember playing in the backyard and receiving a kit - basically a Batman fan club packet - with face mask, cape and identity cards and other stuff - I recall thinking it was the best thing I had ever had! (guess I was really easy to please when I was young).
As a child we would all take the Bus into Southampton City Center every few weeks. The bus stopped right outside the Titanic Engineers Memorial on the corner of Andrews park, dedicated to all the engineering officers and crew - who predominantly came from the City of Southampton and who all died in the disaster.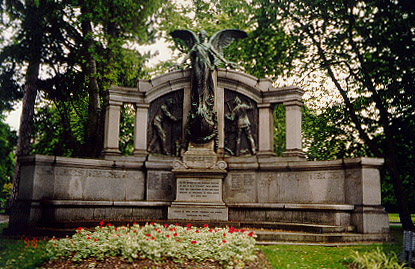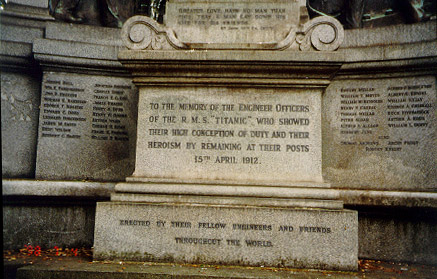 The text at the top reads "Greater love hath no man than this. That a man lay down his life for his friends" I remember so clearly reading it many times and always thought how self sacrificing this was...
Subsequently its not so clear to me that they had so much choice in the matter.
Southampton has some wonderful city center parks - lots of green right through the middle of the city - quite unlike most English cities - this was located on the corner of one of them.
It was only when I was a teenager I found out the real reason for this. One week there was a series of pictures published in the local newspaper of Southampton during the Second World War. The whole of the area of the city center - all the way to the docks was almost completely in ruins - just a wasteland of rubble - except for the Bargate & roman walls - virtually the only things massive enough to have survived. Southampton was a major port (Southampton Docks), a small naval shipyard (Thornycroft's) and home of Vickers Supermarine the builder of the Spitfire fighter - all of these made Southampton a major Luftwaffe target. They bombed Southampton relentlessly in 1939-1942 with over 1500 air raid alarms, 52 major raids and over 45,000 buildings destroyed - probably the only good to come out of it is the parklands left behind today. The glow of Southampton burning could be clearly seen from northern France almost 50 miles away.
Copyright (c): Alan Moore 2006 - 2012 Page Updated: 11/26/2012 Page Views: